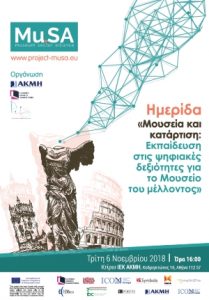 The AKMI Institute of Vocational Training and the DAISSy research team of the Hellenic Open University invite you to the Infoday entitled "Museums and Training: Digital Skills for the Future Museum" (in Greek) on Tuesday, 6 November 2018, hours: 16:00 – 20:00 , at the AKMI premises, in Athens. The workshop is organized within the framework of the European Mu.SA – Museum Sector Alliance, funded by the Erasmus + / Sector Skills Alliance, coordinated by the DAISSy research team and IEK Akmi participates as a partner.
The purpose of the Infoday is to present the Mu.SA project and its activities as well as the existing prospects of education and training in digital skills for museologists, cultural professionals and students, as well as their practical application.
The Infoday addresses employees, museums and cultural sites and organizations, trainers, teachers and training providers, researchers, students and graduates of relevant departments, as well as those interested in working in the field of culture.
Free entrance